Posted by Emily Strohm and Janine Rayford Rubenstein on Friday, October 3, 2014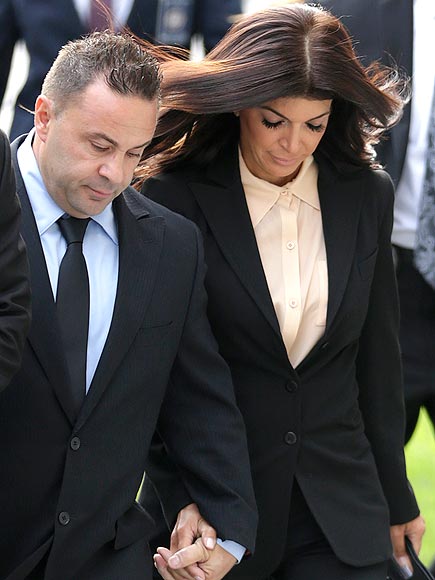 Julio Cortez/AP
By Emily Strohm and Janine Rayford Rubenstein
updated 10/01/2014 AT 04:45 PM EDT
•originally published 10/02/2014 AT 01:25 PM EDT
Teresa Giudice
will serve 15 months in prison for fraud, Judge Esther Salas announced Thursday. Her husband, Joe Giudice, will serve 41 months.
"For a moment I thought about probation … but I think a period of confinement is absolutely necessary in this case," the judge told Teresa. "I don't honestly believe that you understand or respect the law. I need to send a message. In the eyes of the law, it doesn't matter who you are. There are consequences to pay."
Teresa, 42, also received two years probation and will surrender for her sentence Jan. 5 so she can spend the holidays with her family. The couple have four daughters, Audriana, 5, Milania, 8, Gabriella, 9, and Gia, 13.
The
Real Housewives of New Jersey
stars'
legal troubles
came to a head in July 2013, when they were charged in a 39-count indictment that included conspiracy to commit mail and wire fraud, bank fraud, making false statements on loan applications and bankruptcy fraud.
After originally pleading
not guilty
to all charges, they then
changed their plea
to guilty in March.
Teresa will serve her sentence first, followed by Joe. The judge said multiple times that Joe is facing "imminent deportation" following his sentence.
"You're a devoted mother," the judge told Teresa. "You have no criminal history. You've paid your taxes. Those girls need their mother at this critical age in their lives. There's a bond between a mother and a daughter."
Teresa: "My Daughters Are My Life"
In a tearful statement before the court earlier Thursday afternoon, Teresa said, "My daughters are my life. I'm more sorry than anyone will ever know. I will make this right no matter what."

She added, "I'm really scared … I need to learn to do things for myself. It's time for me to wake up."

Joe was sentenced to the 41 months on four counts, plus 12 months on an additional count, to be served concurrently. He'll also get two years probation and will have to pay $414,000 to Wells Fargo bank, plus $10,000 in fines. He will be able to surrender himself.

"I stand here humiliated," Joe said in a statement before the sentencing. "I disgraced many people, including my wife and my four daughters. I take full responsibility for my actions. I promise to be a better person."

Before handing down the sentence, the judge told Joe, "I am not sure you respect this court or our laws, and I'm not sure you understand what you've done." She added, "I want you home with your girls. You're a great dad."

The judge said immigration services will not act on Joe's deportation case until after his sentence is served, and she recommended that he participate in an alcohol program.

Bravo will air a special Watch What Happens Live: One-on-One with Teresa and Joe with Andy Cohen on Oct. 6 at 9 p.m. ET, marking the couple's first interview since their sentencing.
Tags:
teresa giudice sentenced to 15 months in prison on fraud charges
comments powered by

Disqus