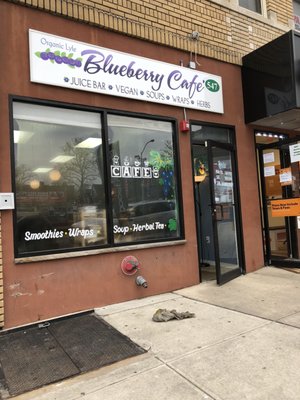 Organic vegetables, fruits, nuts, and seeds are often safer, fresher, and more nutritious. At Blueberry Cafe' Juicebar & Vegan Grille in Newark, New Jersey, we serve food and beverage that will delight the vegan in you....👉 @BlueBerryCafe


New Single
Lejend "Black Skin" Scored by Dirty Diggs
Seasoned lyricist Lejend releases his new single "Black Skin." The song questions the fear of black skin in America and the constant mistreatment of black people, all while highlighting the brilliance of black skin. "Black Skin" is beautifully scored by one of the most powerful production teams, Dirty Diggs.

Lejend is available for interviews and drops. To schedule please reply back to this email or contact the artist directly below. Enjoy the listen and we appreciate any and all spins. As always, thank you for your continued support. -MJ
https://twitter.com/texasheat
https://www.instagram.com/lejend3102/
gpmedia22@gmail.com
Lady Boss:
D.O.P.E
(Do Our People Equal)
Single & Video

Philly's own Lady Boss delivers lyrical gems and harsh truths in her latest single "D.O.P.E."

It is evident through her bars that Lady Boss has been dragged through societal warfare, but has risen from it. Now it's her duty to empower strength to her brothers and sisters to overcome the deafening sirens of 20th Century slavery, violence, and murder.




bookladyboss@gmail.com
www.instagram.com/215ladyb
www.twitter.com/paladyboss
https://www.facebook.com/ladyboss.boss.946
DJs Don't Miss Out On Mr. Lefty's "R.O.M.W."
Mr. Lefty, CEO and artist at Everythang Taylor Made (ETM) releases his latest single featuring Ashli Monroe "R.O.M.W." The infectious blend of rhymes and vocals over soulful, yet funky cadences accentuates Mr. Lefty's impeccable wordplay. When the rain is falling with life stressors, Mr. Lefty grinds double-time to ensure finances, family, and his career continues to flourish.

Mr. Lefty is available for drops and interviews. To schedule please reply to this email or contact Mr. Lefty directly below. Enjoy the listen, and we appreciate any and all spins. As always thank you for your continued support. Stay well -MJ

Everythangtaylormade@gmail.com
https://www.facebook.com/etmmlg/
https://www.instagram.com/mlg_etm/
Mr. Lefty EPK
Omen44 Ft. Skyzoo
"I Can See The Sun" Single & Video
Seasoned artist Omen44 enlists Hip Hop great Skyzoo for the first single and video off his forthcoming album entitled 'Hentai'. The single "I Can See The Sun" is produced by DJ Tomo aka Tumu.

The video captures Omen44 and Skyzoo without any gimmicks or distractions so viewers can fully embrace the duo's captivating and empowering journey. "Suffered a thousand nights before I saw the sunlight", this catchy and infectious hook sets the stage for Omen44 who will not "choke on his aspirations."

.
Instagram - https://www.instagram.com/omenfourfour/
Twitter - https://twitter.com/Omenfourfour
MP3 of I Can See The Sun by Omen44 Ft. Skyzoo
Omen44 I Can See The Sun Ft. Skyzoo Official Video
Spotify Playlist Promotion Submission (currently our database of playlists consists of over 1000 playlists, last month we managed to get artist over 8 million streams on all platforms combined) playlist spots are 4 week spots!!
Guaranteed submissions + Get added to various Spotify Playlists only $60 one time payment (this will include 1day's free promotion on our social media accounts)
All the above and be in our 'Featured' sections for only $60 one time payment (this will include 5 days worth of social promotion + be included on our newsletter sent out to thousands of music lovers and taste makers) Extra exposure
THE BASIC PACKAGE COMES WITH 3 SPOTIFY PLAYLIST PLACEMENTS TOTALLING 100,000 FOLLOWERS